Featured Performers
B-25 Mitchell "Champaign Gal"

"Champaign Gal" N744CG is a 1944 B-25J converted to a TB-25N serial number 44-28866. The aircraft was built during WWII but did not see any action. It was used as a training aircraft while in the Army Air Forces and then saw various duties while active in the US Air Force after WWII. In 1958, 44-28866 was converted to civilian use as a fire fighting aircraft and was used to fight forest fires in the western USA. By the late 1980's the aircraft had seen its day and was not in active use. In the 1990's a volunteer group in North Carolina started a restoration process to return it to its war time look. The airplane was eventually purchased in 2007 by the Champaign Aviation Museum. Today we fly "Champaign Gal" to airshows and airport events so that the public can appreciate the fight for our freedom during WWII.For more information: WEBSITE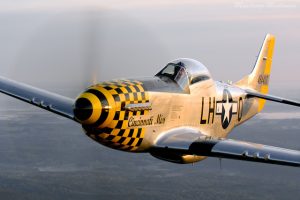 P-51D

The P-51D Mustang on display was built in 1944 for use with the Royal Australian Air Force (RAAF). Built too late to see action in WWII it was used primarily for training RAAF pilots and on retiring from the RAAF in 1953 had accumulating only 615 flying hours. Purchased from the RAAF in 1954 by American Aeronautics Corporation and imported back the United States 44-84410 passed through several American owners without being returned to flying condition. Restored to airworthy condition by the technicians of the Tri-State Warbird Museum in 2005 this P-51D is painted in the colors of the 353rd Fighter Group, 350th Fighter Squadron based in Raydon, England in 1944-45. For more information: WEBSITE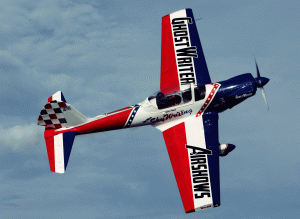 GhostWriter Airshow
Originally designed as a trainer for the Royal Canadian Air Force, our 1956 deHavilland Chipmunk has been specially modified for Airshow aerobatics and Skywriting. Nearly 3,000 man-hours over a two year period were spent on developing the GhostWriter into the finest example of a Super Chipmunk. It now boasts a cruising speed of 150mph, and a range of more than 500 miles. It will climb at a rate of 2,500 feet per minute, with a ceiling of 17,500 feet. If you recognize the airplane, that's no surprise. GhostWriter developed a well established career in the Airshow and Skywriting industry as the Pepsi SkyDancer for 25 years. In 2016 Nathan K. Hammond took the controls and has been captivating audiences with the smooth lines and raw horsepower of the unparalleled Super Chipmunk ever since. GhostWriter Pilot: Nathan joined SkyDancer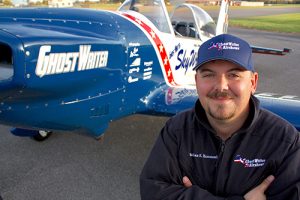 Airshows in 1998, quickly learning the techniques and nuances of Skywriting and Airshow flying. Today, Nathan flies the Super Chipmunk, the GhostWriter, in both daytime and nighttime airshows; as well as skywriting across the nation. The passion of flying was instilled into Nathan from his earliest days. Born and raised in Rhinebeck, New York; the airplanes and airshows of Old Rhinebeck Aerodrome started his flying career. Soloing an airplane at age 16, earning his pilot's license at 17; Nathan has logged over 7,000 hours flight time, from 1917 Curtiss Jenny's to Cessna Citations. Along with being a Commercial rated pilot, he also maintains an Airframe and Power Plant Mechanics License. For more information: WEBSITE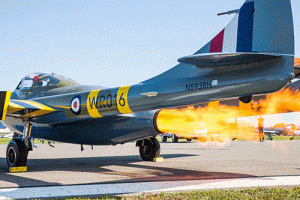 Vampire Airshow de Havilland DH-115
Development of the aircraft began during the Second World War in 1943 as an aircraft suitable for combat that harnessed the new innovation of jet propulsion; it was quickly decided to opt for a single-engine, twin-boom aircraft equipped with the Halford H.1 turbojet engine, which was later known as the de Havilland Goblin. Originally ordered as an experimental aircraft only, the decision to mass-produce the aircraft as an interceptor for the Royal Air Force (RAF) was finalized in May 1944. In 1946, the first production aircraft entered service with the RAF, months after the conflict had come to a close. The Vampire was the second jet fighter, after the Gloster Meteor, operated by the RAF, and it was the service's first to be powered by a single jet engine. The Vampire was quickly used to replace many wartime piston-engine fighter aircraft. The RAF operated it as a front-line fighter until 1953. About 3,300 Vampires were manufactured. Vampire Pilot: Jerry Conley, President of Vampire Aviation,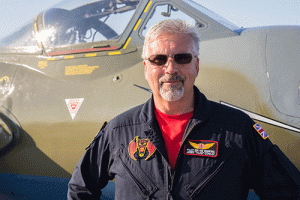 LLC. and chief pilot. Jerry's flying career started at eight years old when he got a kids book titled "Jerry the Jet" and the rest is history. Having 35 years experience, Jerry's flying experience includes aircraft such as Beecraft Bonanza, Cessna 172, Citabria, Super Decathalon, SAI Marchetti, Bell Helicopters, HA-200 Casa Jet, Dehavilland Vampire, Dehavilland DH-112 Swiss Venom, L-39, and AVL-29. Jerry has performed at Airshows across the country fly high performance jet aircraft for 13 years. Jerry holds an 250′ Aerobatic low level card with Jet certification. Jerry is also an avid car enthusiast having built a high performance 1966 Cobra sports car. Whether in the air or on the road, if it goes fast that's were you'll find him. Jerry is proud to have served our country in the United States Air Force and is an honorably discharged veteran. For more information: WEBSITE
Emerson Stewart Airshows

Emerson Stewart is a 3rd generation pilot with over 12,000 flying hours. He has 20 years of airshow experience, Nationally and Internationally.
Emerson has also been a flight instructor specializing in tailwheel and aerobatics for 22 years. He learned to fly at a young age at his family's airfield, named after his Grandfather, Red Stewart Airfield in Waynesville Ohio. His wife Kim is a tailwheel pilot and their two young children enjoy flying as well. He has a Facebook page, "Emerson Stewart Airshows" For more information: WEBSITE
More performers will be announced in early 2018.